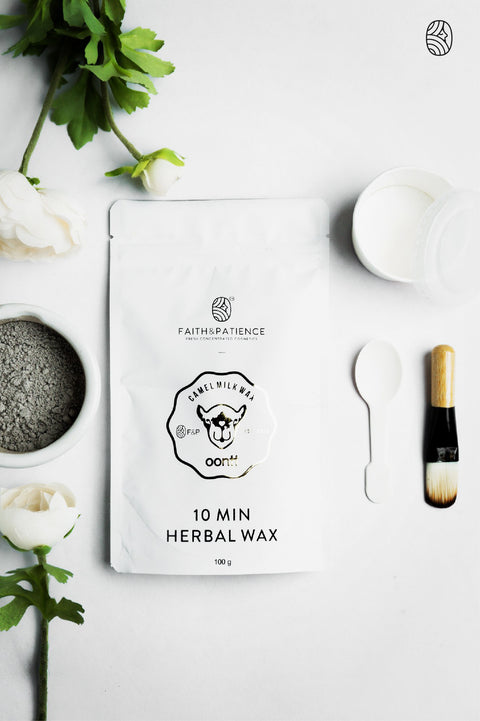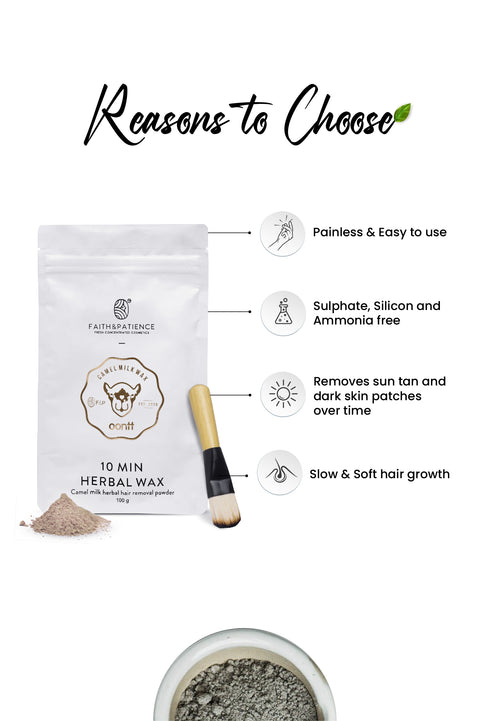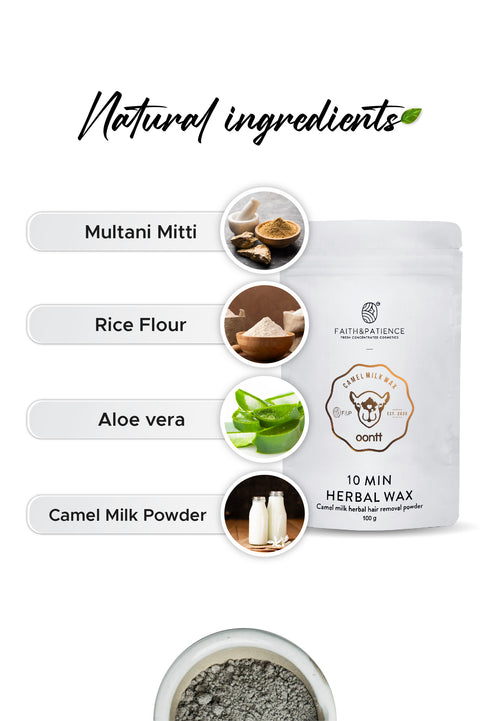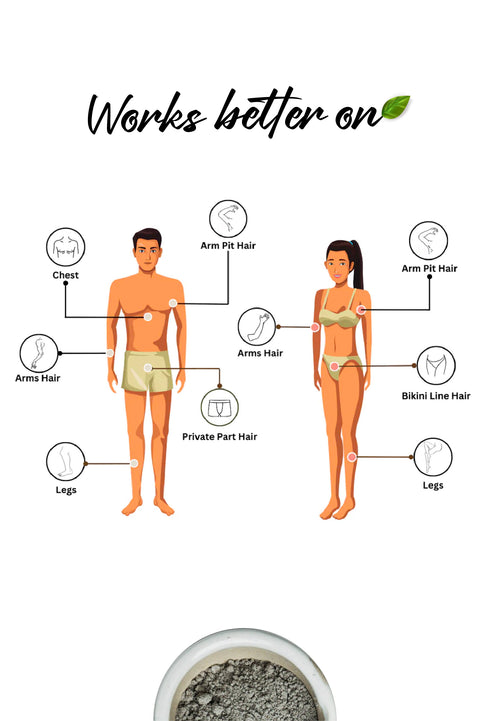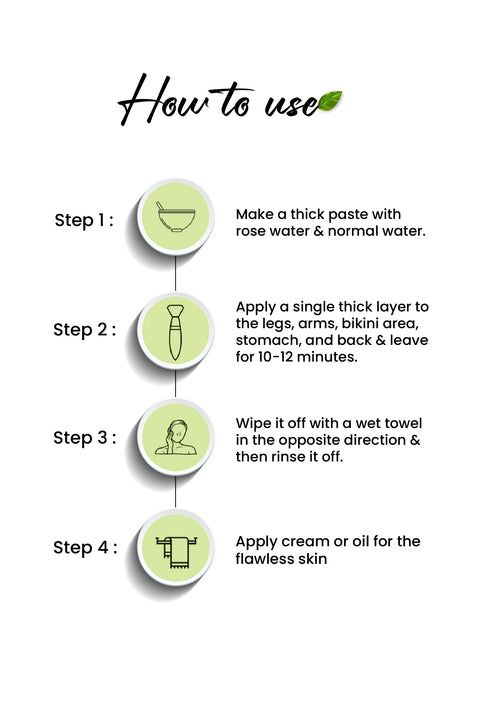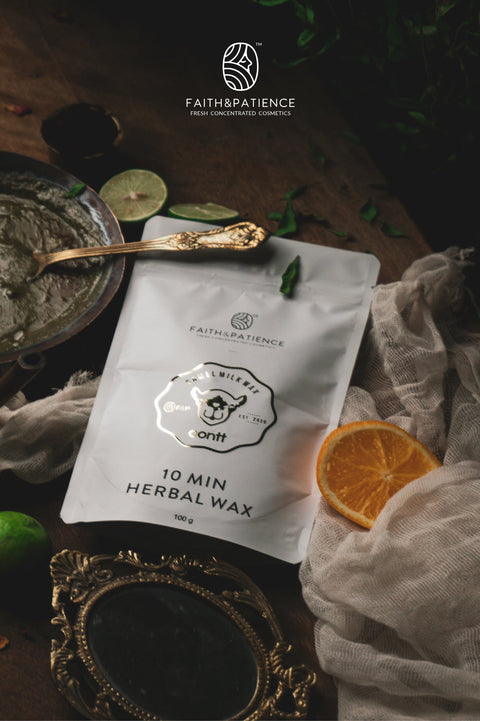 FAITH AND PATIENCE
Camel Milk Hair Removal - 10 Min Herbal Wax
with Ayurvedic Herbs
Full Ingredients
Fuller's earth, Rice Flour, Orange Peel Powder, Camel Milk Powder, Coconut milk powder, Aloe Vera Powder, BaS, Lemon Peel powder, Coffee powder, Camphor, Crape jasmine powder, Spikenard.
How to Use

Advance Researched formulation


Organic & natural Ingredients

Sulphate, paraben & Toxin Free

Clinical Study
What Our Customers Experience
Reduction in Skin tanning
Burns, Rashes, Cuts, Bumps
Time And Money Saved Compared To Traditional Waxing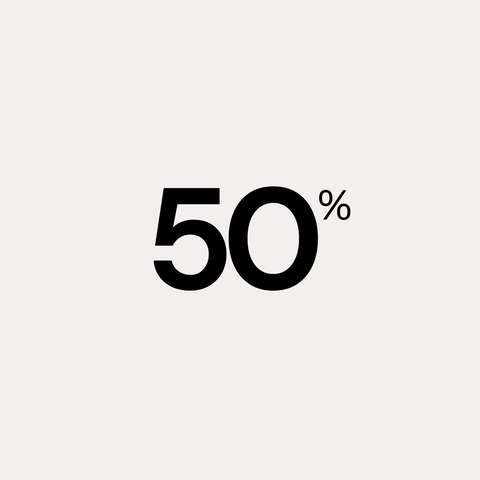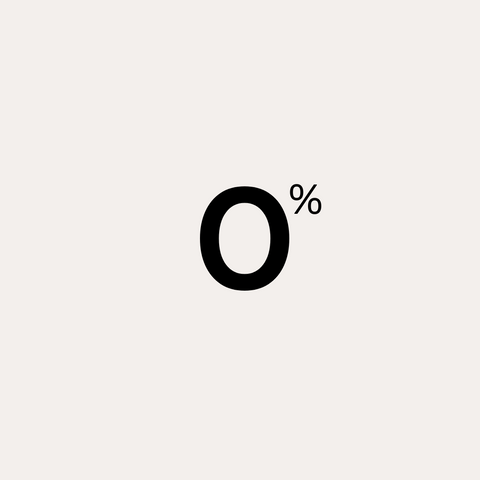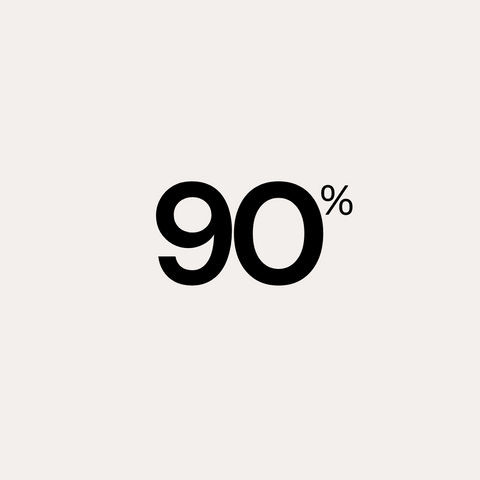 Will this camel milk wax powder darken my skin?
NO. Our Camel Milk Wax Powder is natural and will not darken but rather nourish your skin.
Is it safe to apply camel milk wax powder to my face?
If you want to use it on your face, don't leave it on for more than 5 minutes. Do a separate patch test for the face, and do not apply on breakouts or damaged skin. Only use on the upper lips and chin; avoid the cheeks and forehead.
Is it necessary to perform a patch test before using camel milk wax powder?
Although our Camel Milk Wax Powder is made with natural ingredients, we would advise a patch test to check if you are allergic to any ingredients.
What is the shelf life of camel milk wax powder?
What should I apply to my skin after using camel milk wax powder?
After cleaning the wax with a wet cloth, use a gentle or chemical-free moisturiser for added nourishment.

Camel Milk Hair Removal - 10 Min Herbal Wax
We usually deliver in 2-3 days.